El lunes llegamos de vuelta a nuestra casa, después de un viaje de 11 días y 4 paradas (Cataratas del Niagara, Toronto, 1000 Islands y Adirondack park). Estábamos todos cansados con un montón de cosas por ordenar, ropa por lavar y detalles por completar, como sacarle punta a 48 lápices grafito que pedían en la lista de materiales de Elisa!.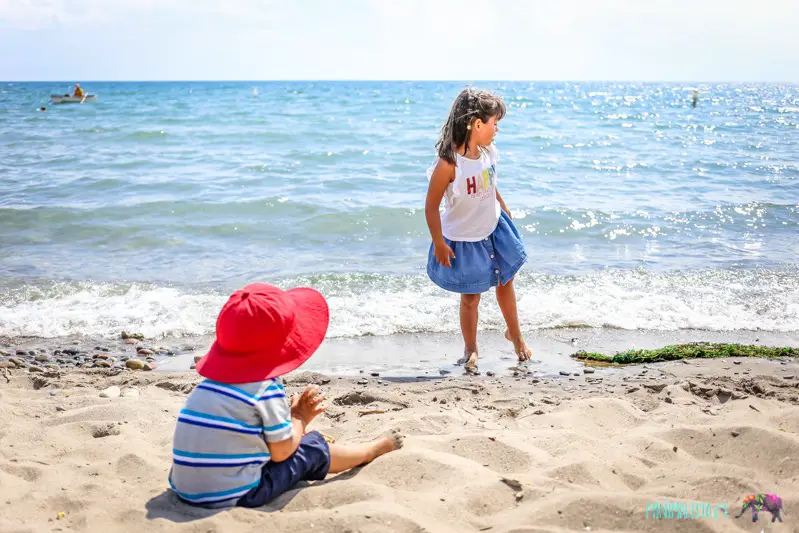 Al otro día Elisa tuvo su primer día de clases.
Esa mañana después de despedir a Elisa pensé en quedarme haciendo toooodo lo que tenía que hacer pero Liam estaba mañoso y mis amigas se iban a juntar en un parque así que decidí que la ropa sucia podía esperar y necesitaba tiempo con ellas. Este grupo de amigas es una de las cosas que más atesoro de mi vida aquí y las voy a extrañar TANTO cuando nos vayamos a Chile.
Después del parque Liam almorzó, tomó su siesta y despertó un poquito antes de la hora en que tenemos que ir a buscar a Elisa.
Fue un buen primer día de transición, pero no haber hecho nada productivo me pasó la cuenta y hoy he estado TODO EL DÍA ordenando. Liam y Elisa estaban un poco mañosos y la única manera en que pude revisar mi e mail fue jugando a la escondida con ellos y leyendo los mails mientras estaba debajo de la cama, en un closet o bajo los cojines del sillón.
Quizás deberíamos haber vuelto un día antes para tener tiempo y prepararnos bien para el comienzo del nuevo año escolar, pero queríamos aprovechar hasta el último segundo de las vacaciones 2016 y fui nuevamente víctima de FOMO (fear of missing out).
Pero Liam parte el jardín mañana y la ropa está casi lista. También llené todos los papeles que me pedían del colegio de Elisa y mi pieza está 80% ordenada. Voy a tomar esta semana como semana de transición y relajarme si no tenemos un horario claro o comidas planificadas… volver a la rutina es difícil pero me gustan los nuevos comienzos. Además tengo un nuevo trabajo freelance que me va a tener trabajando full hasta que nos vayamos a Chile. Balancear trabajo, casa, matrimonio e hijos no va a ser fácil pero un buen calendario y plantillas de organización -por hora- lo van a hacer posible.
Relacionado
September is your second chance January "fresh start effect" — that is, that people are much more likely to think of the bigger picture of their lives, and set goals accordingly, just after beginning some new era. These could be, and often were, big milestones: a new job, a new marriage, a new school year. But, just as often, they were much smaller than that: the start of a new month (or even of a new week or day), or the first day back at work after a vacation.
The Importance of Family Meal Planning  Meal planning is the key element for your family to be successful when trying to consume healthier meals. It can help save money and time, while ensuring well-balanced meals are available. A lack of meal planning can lead to that quick trip to the drive-thru fast food chain or a call for delivery pizza.