Mi amiga Mabel vino por un semestre a trabajar a la oficina de NYC de su compañía y aunque ya lleva 4 Meses aquí, la he visto muy poco.
Pero el clima al fin está lindo y mis ganas de recorrer y explorar al fin despertaron después de un largo invierno. Por eso decidí hacer una lista de: "10 Cosas que hacer en Nueva York con Mabel".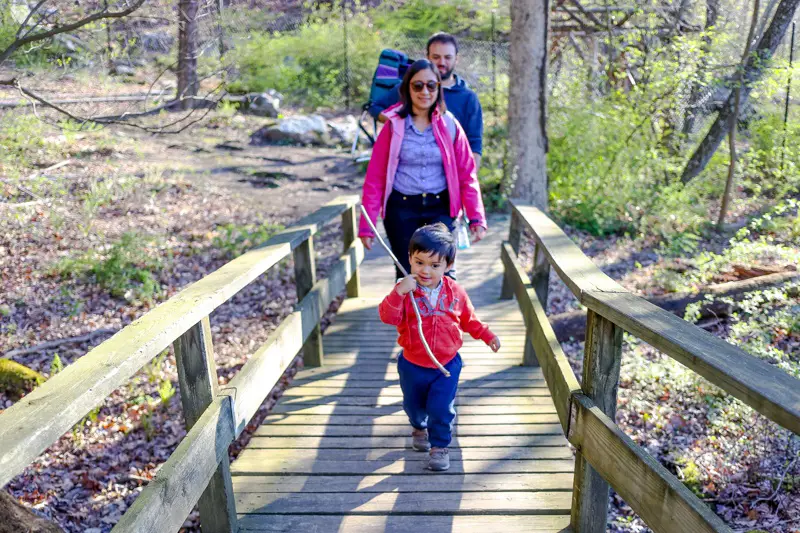 ::: Sebita seguido por sus papás paseando por Teatown Lake Reservation :::
NYC – Explorar Brooklyn: Park Slope, "Children's Corner": Prospect Park Carrousel, Prospect Park Zoo y Brooklyn Botanical Gardens.
NYC- Dance Parade (21 de Mayo) 2.300 bailarines por Broadway y la quinta avenida.
NYC- MET Rooftop Garden Exhibit: Date night with drinks, chips and sunset.
NYC- New York Aquarium y Playa Coney Island
NYC- Explorar el Central Park: Picnic + Central Park Zoo
NYC- Andar en bicicleta en la Greenway: Quizás partir en Fort Washington Park (para ver la little red lighthouse) y terminar en The Battery para saludar a la Estatua de la Libertad. (mapa)
NYC- Lunch Date + Magnolia cupcakes: sin niños ni maridos
Westchester – Playland Rye o SpashDown Beach
Westchester – Teatown Lake Reservation Hike
Upstate NY – Viaje a las montañas
Considerando que Mabel probablemente se va a mediados de Julio, esta lista es ambiciosa, pero nos va a ayudar a al menos vernos más seguido.
Update: 25 de Julio. 5/10